GENERAL MANAGERS
SALES DEPARTMENT
FINANCE & INSURANCE DEPARTMENT
Jeremy Chasey
Business Manager
Jeff Hammond
Business Manager
PARTS & ACCESSORIES DEPARTMENT
SERVICE DEPARTMENT
Matt Frost
Service Manager
Levi Walls
Asst. Service Manager / Service Advisor
Dennis Peck
Service Advisor
Kevin Dahl
Service Advisor
Nick Grachanin
Service Advisor
Marc Dyal
Service Technician
Greg Lewis
Service Technician
Ryan Zimmerman
Service Technician
Dan Haveri
Service Technician
Colin Hayman
Service Technician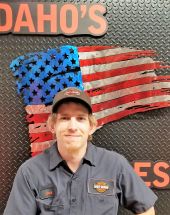 Cory Long
Service Technician
Korey Yee
Service Technician
Aaron Holman
Service Technician
Gerald Miller
Service Technician
J Ridley
Detail Specialist
Michael McKague
Detail Specialist
Jesse Rapp
Detail Specialist
Chris Brown
Delivery Specialist
MOTORCLOTHES®
Matt Thompson
MotorClothes® Manager
I'm from Anchorage Alaska, I've been riding on and off since childhood, more dirt than street. Outside of work I enjoy travel and adventure.
Kendle Willingham
MotorClothes® Assistant Manager
I'm from Sedro Woodley Washington and I've lived in Idaho since 2001. I have had my endorsement since July of 2017! I am a Criminal Justice Major at BSU, and in my free time i like to be outdoors, go to concerts,, and play board games with my family. Some of my hobbies are vinyl record collecting, and playing video games.
Bailey Julian
MotorClothes® Specialist
Hayleigh Breier
MotorClothes® Specialist
I was born in Roseburg OR, and raised in Nampa Idaho. I've been a passenger on my parents bikes for as long as I can remember! When I'm not working at High Desert or working towards my degree, I love to spend time with my loved ones and two fur babies. I enjoy concerts of any kinds, playing online PC games and watching the latest superhero movies.
Emily Eastridge
MotorClothes® Specialist
Hi I'm Emily! I am from Mission Viejo California. I have been passenger riding for about a year now. I love horseback riding and training horses, I've been horseback riding since I was 6 (for 14 years!) I also love playing video games and hanging out with my friends.
Hailey Awe
MotorClothes® Specialist
Hi I'm Hailey, I'm from Nampa Idaho. In my free time I like to hangout with friends, go swimming at the lake, and drive around listening to music. My hobbies include cheer leading and off-roading.
Kelsey Brown
MotorClothes® Specialist
I'm from Kalama Washington and have lived in Boise since fall of 2015. I've been riding for about 12 years now with my family. In my free time I enjoy road trips and spending time with friends and family.
MARKETING & EVENTS
CORPORATE / ACCOUNTING OFFICE
Brett Roberts
Operations Manager
Cathe Martin
Titles Clerk
Nancy Carter
Accounts Payable
Walter Seastrand
Facilities Manager
LEARN TO RIDE
SHIPPING & RECEIVING
Peggy Dooms
Shipping & Receiving Specialist
John Kilkenny
Shipping & Receiving Specialist
FRONT DESK RECEPTION
Mindi Lewis
Receptionist
I have lived in Idaho my whole life, born in Pocatello, Idaho then moved to the Treasure Valley when I was 8 years old and have been here ever since. Minus a brief 4 month hiatus living in Portland to go to college for one semester, also known as my wild and rebellious phase. I am currently a full time student at CWI working towards my Associates Degree majoring in physical therapy. Outside of work I mostly work on homework, color in my adult coloring books and bake delicious sweets like cookies and cakes. I don't currently ride, yet. However, I am planning on taking the amazing Learn to Ride course we offer here at Harley Davidson. I went on my very first ride the summer of 2019 and absolutely fell in love with the sport. Now it's hard to imagine how I lived my life without motorcycles in it!
RENTALS